Gree are dedicated to producing innovative, ground breaking products and a comprehensive range of air conditioning solutions. With over 300 million worldwide users, one in three air-conditioning systems produced in the world is manufactured by Gree.
Gree - Lomo Hi-wall Air Conditioner (Heat Pump)
Gree Lomo Hi-wall Air Conditoner/ Heat Pump is highly efficient and energy saving. This means that the units need less electricity to run and uses the energy in an efficient way, which translates into faster cooling for you. Lomo Air Conditoner/ Heat Pump  will keep your room temperature precisely as you set it, whilst staying as energy efficient as possible.
Gree Hyper - Hi-Wall Inverter Air Conditioner (Heat Pump)
The new Hyper Range of heat pumps utilises Gree's G10 inverter, this inverter module utilises a cutting edge, high speed, DSP computer chip for precise inverter control. This ensures accurate calculation and control which leads to efficient and unceasing operation.
Gree - 20kW & 24kW Three Phase Ducted Split
Higher Efficiency
Compact structure
CAN Bus communication
High and Adjustable ESP
Wide operation ranges for both temp and voltage
Refrigerant cooling technology
Optimized fan blade and motor support
Condenser simulation design
Australia Only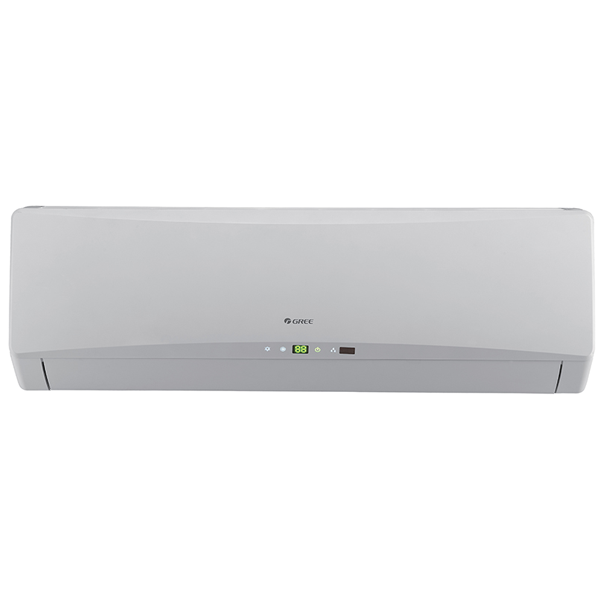 Gree Hansol - Hi Wall Inverter Air Conditioner (Heat Pump)
Feature-rich with advanced components, the Hansol is our highest-efficiency model, specially designed to save energy and protect the environment. Through our commitment to smart ecological design, the Hansol's unrivaled technology packs an energy-efficient punch that is guaranteed to resonate well in any atmosphere. This sleek heating and cooling device is a ductless wall mount air conditioning system, equipped with the latest G10 inverter technology and an intelligent energy saving function – engineered to reduce up to 65% of your energy consumption.
Gree Cozy - Hi Wall Inverter Air Conditioner (Heat Pump)
With Cozy at your side, you can fight the heat and still be kind to the environment. Energy efficient yet powerful, the Cozy is a high-energy inverter ductless split system that excels at single zone applications.
SINGLE ZONE APPLICATIONS
Bedrooms
Living rooms
Dining rooms
Home offices
Garages
Sunrooms
Basements
Computer rooms
Server rooms
Sleep outs
Gree - Floor Console
The Gree Floor Console offers an alternative option for home cooling and heating. It can be recessed into a wall and is an ideal replacement for a traditional home fire.
Gree - Ducted Inverter Air Conditioner (Heat Pump)
Compact and powerful, the Gree Ducted System offer the ultimate in flexibility and discretion.
These slim indoor units are designed to be concealed above suspended ceilings or within open closet spaces to deliver conditioned air via ducting and suitable ceiling or wall grilles.
This arrangement provides immense flexibility, in terms of both the distribution of conditioned air and the type of grille or diffuser that best compliments the room's styling.
Gree - Cassette System
Gree's Cassette System Inverter Heat Pump is the next generation of climate control technology. Gree's energy efficient U-Match outdoor units are available in a full range of capacities to perfectly match a wide range of climate control challenges.
Gree Laffis - Portable Air Conditioner (Heat Pump)
The Gree Laffis heat pump portable will provide heating and cooling all year round.  It is sleek in style with a curved surface and can be easily moved with its flexible castors.  The Gree Laffis is suitable for small areas up to 35 square metres and is perfect for homes, server rooms, small offices, conservatories and more.
Gree Coolani - Window/Wall Air Conditioner (Heat Pump)
Gree window wall air conditioners are MEPS compliant. They provide both heating and cooling and can be installed by a competent handy man. Great for retro fitting older units, portable buildings and sleep outs.
Gree - Solar Hybrid Hi Wall Inverter Air Conditioner (Heat Pump)
The new Gree Solar Hybrid Inverter technology allows you to harness the natural and free energy from the sun to help you run your Gree Hi-wall Air Conditioning unit. You could save up to 97% on your mains power usage* with the Gree Solar Hybrid System, plus it's easy to install and use so you can get started on saving money and lowering your energy usage with no hassle. The solar panels (sold separately) will be wired directly into the outdoor unit by your installer, this means no addition invertor is required. Once the system is set up, simply switch on and enjoy.
Gree Coolani R32 - Window/Wall Air Conditioner (Heat Pump)
Gree has cleverly designed this compact sleek Coolani window unit air conditioner with R32 Eco-friendly Refrigerant.  This Gree window type unit provides comfort cooling and is ideal for apartments, small offices, garages and pre-fab buildings.  This unit can be installed by a competent handy man. The unit features Sleep function, 3D airflow, Clock with On/Off Timer and Check Filter Indicator as standard.
An excellent product with a 6 year warranty;
4 models, basically small, medium, large. 2.7kW, 3.9kW, 5.3kW, 6.0kW;
R32 Refrigerant;
Remote controlled, heat or cool;
New Zealand only
Gree - Air Curtain
Air Curtains help sustain a healthy working environment whether cooling, heating or ambient conditions for a comfortable climate for customers and employees
Gree - Freematch Multi Head
One of today's most advanced inverter-driven ductless split systems, our acclaimed Gree Multi systems will facilitates multiple room continuity for both heating and cooling. The Gree Multizone system is a synthesis of hi-wall units that can be mixed and matched for use in up to five zones – ideal for residential and light commercial application.
Download a Gree Hi-wall Heat Pump Brochure